US ARMY 2ND INFANTRY DIVISION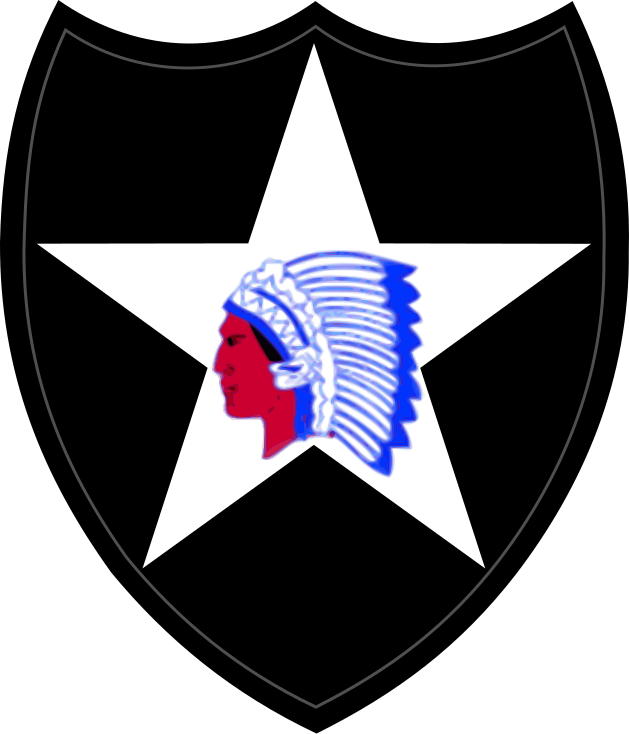 After training in Northern Ireland and Wales from October 1943 to June 1944, the 2nd Infantry Division crossed the channel to land on Omaha Beach on D plus 1 (7 June 1944) near St. Laurent-sur-Mer. Attacking across the Aure River on 10 June, the division liberated Trévières and proceeded to assault and secure Hill 192, a key enemy strong point on the road to Saint-Lô. After three weeks of fortifying the position and by order of Commanding General Walter M. Robertson the order was given to take Hill 192. On 11 July under the command of Col.Ralph Wise Zwicker the 38th Infantry Regiment and with the 9th and the 23rd by his side the battle began at 5:45am. Using an artillery concept from World War I (rolling barrage) and with the support of 25,000 rounds of HE/WP that were fired by 8 artillery battalions, the hill was taken. Except for three days during the Battle of the Bulge, this was the heaviest expenditure of ammunition by the 38th Field Artillery Battalion; And was the only time during the 11 months of combat that 2nd Division Artillery used a rolling barrage. The division went on the defensive until 26 July. After exploiting the Saint-Lo breakout, the 2nd Division then advanced across the (Vire) to take (Tinhebray) on 15 August 1944. The division then raced toward (Brest/France), the heavily defended port fortress which happened to be a major port for German U-Boats. After 39 days of fighting the battle was won, and was the first place the Army Air Forces used bunker busting bombs.
(Wikipedia)
"When he left Paris at age 18, the plan was to go to New York for a year and learn his father's sewing machine trade. Six years later, Bernard Dargols found himself crossing the Channel in a U.S. Army uniform, sloshing ashore on Omaha Beach to a homeland that had persecuted his Jewish family.
Dargols' journey from Paris to New York and back ended when he drove his Army jeep into a courtyard in the recently liberated French capital, striding upstairs into a darkened apartment and into the arms of his weeping mother. Until that moment, he hadn't known whether she had survived the Nazi occupation."
( http://fox11online.com/archive/frenchman-joined-us-d-day-forces-to-free-homeland )